Airline industry on the up as College celebrates Civil Aviation Day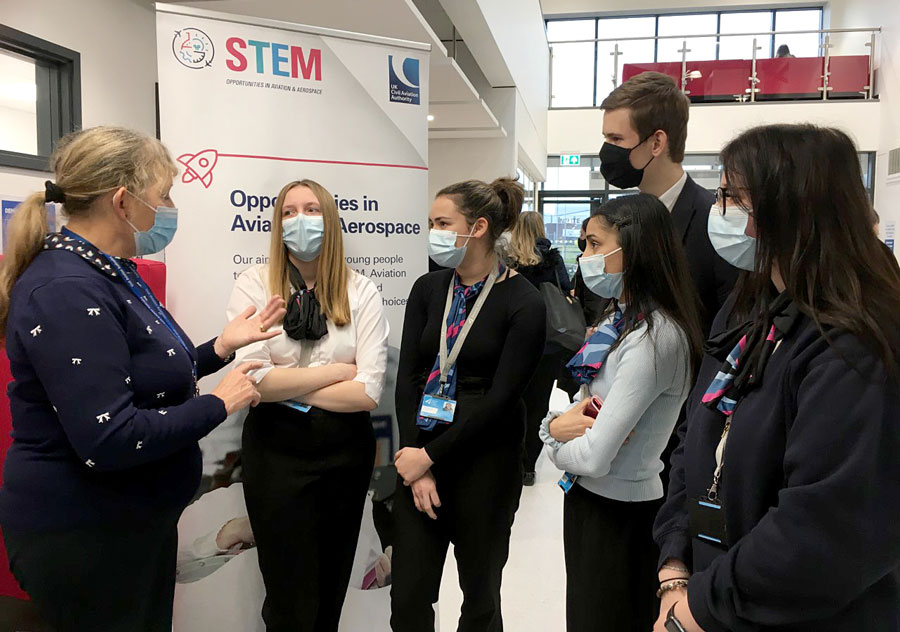 Stansted Airport College celebrated International Civil Aviation Day by hosting a networking event where students had the opportunity to talk to specially invited aviation organisations about work experience and career opportunities.
International Civil Aviation Day is an annual event recognising aviation's vital role in boosting global, social and economic development, of connecting the world, and bringing untold new and exciting opportunities to millions of people.
As well as finding out about careers in the industry, students were able to discover more about the organisations in detail and understand what they do. Organisations who attended included the Civil Aviation Authority, the Royal Aeronautical Society, London Stansted Airport (MAG), Harrods Aviation and Ryanair.
Aviation Operations student Pharrell described why the event was worthwhile. "I want to become a pilot and this event has given me a much better insight into the different pathways available. It's harder to find this type of information online so to hear it first hand from someone who works in the industry has really opened my eyes to what I could be."
Holly, also studying Aviation Operations, was equally enthusiastic. "I found it really interesting talking to Harrods Aviation – I didn't really know what they did but after speaking to them I'll definitely be applying for a role. I think it's very important to have the opportunity to meet with these organisations, otherwise you don't always get to hear about the opportunities that are available. I've got so many contacts from today, all for different jobs and work experience that I could be applying for."
Nick Davis is the Education, Skills and Diversity Manager at the Royal Aeronautical Society. "We try to inspire future generations into aerospace and aviation careers. It's really important for us to talk with young people about the opportunities available in our sectors. It's been a tough 18 months but the industry is very resilient and there will be lots of opportunities in the sector, including many brand-new opportunities. It's a very rewarding, inspirational and future thinking industry."
Emily Cottrell and Sharon Nicholson were representing the Civil Aviation Authority, who oversee safety regulations within the aviation sector. Emily: "The aviation industry has had a tough time recently but it does tend to be cyclic and every time it comes back it tends to come back stronger, so the jobs will be there. Sharon: "Today has been really good as we've been able to network with other organisations. Everyone has been amazing, there's been a great atmosphere and the students have been really involved."
Alex Smith is the Education Coordinator at London Stansted Airport. "I work quite closely with everyone here at the college so I do get a lot of time to interact with the students and I've been really impressed with the level of interest they've shown today. I think they're really awake to the opportunities that are available at the Airport currently and looking ahead, as the industry starts to recover. I was delighted to promote hundreds of exciting roles currently available at the airport across several sectors including hospitality, aviation and cargo. It's been great today just to talk with students to make them aware of what's available over the other side of the runway."
Victoria Claydensmith, Deputy Head of Stansted Airport College, said "Stansted Airport College is delighted to be hosting this event to mark International Civil Aviation Day 2021. The day celebrates the importance of civil aviation and recognises the role aviation plays in the global transit network.
The event offers our students a unique opportunity to network with organisations from the aviation industry, expand their knowledge and find out information about careers and governing bodies."