Local MP celebrates National Apprenticeship Week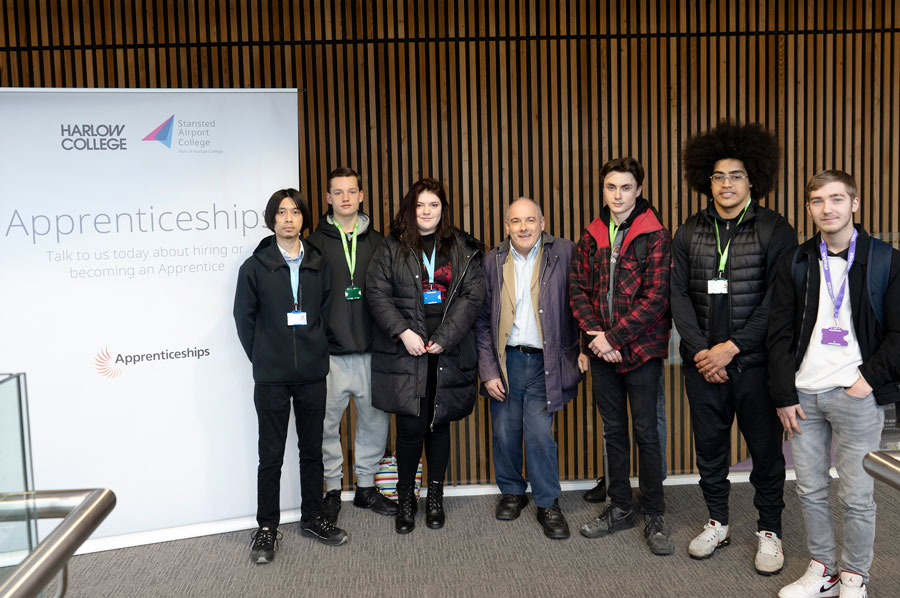 To kick-start celebrations for National Apprenticeship Week, which takes place across England from 7th-13th February, Robert Halfon, MP for Harlow and Chair of the Education Select Committee, met with new apprentices at Harlow College where he gave an impassioned talk on the merits of apprenticeships and their value to both employers and the economy.
Robert said: "National Apprenticeship Week is really important as it highlights how incredible apprenticeships are, because with apprenticeships you have a chance to earn while you learn, you gain a brilliant set of skills and, most importantly, you get an incredible job at the end of it. 90% of apprentices who complete their training get a job and climb the ladder of opportunity. At the top of that ladder is job security and prosperity. National Apprenticeship Week showcases the best apprentices here and all over the UK."
The college enrols new apprentices three times a year, and joining in February were young people from many different sectors including automotive, engineering, business, IT and plumbing. The latest plumbing apprenticeship standard is highly focused on the environment including the installation of air source and ground source heat pumps and energy efficient ambient heating systems, helping to meet COP26 targets and provide for a more sustainable future.
The theme for this year's National Apprenticeship Week is 'blaze your own trail' and for many young people apprenticeships are an exciting alternative to university. An apprenticeship is a real job where you learn, gain experience and get paid. You get hands-on training and also the chance to put your skills into practice.
In the latest official figures covering the 2021/22 academic year, apprenticeship starts were up by 43% compared to the previous year, with 31% of those starting their apprenticeship being under 19 years of age. (Source: Association of Colleges).
Robert Halfon: "It's brilliant that so many young people are embracing apprenticeships. If I had a dream, it would be to offer every young person an apprenticeship guarantee. For a young person to successfully undertake an apprenticeship means that they're made for life."
The recent Government Employer Incentive scheme has helped local businesses recruit more apprentices of all ages, by making available incentive grants for all newly created Apprentiship job roles. This scheme was a direct Government response to help employers and job seekers bounce back from COVID19. Gary Salisbury, Apprenticeships Manager at Harlow College, said: "We've seen so much interest from local employers taking advantage of this great jobs and training initiative!"
Karen Spencer MBE, Principal of Harlow College, said: "It was a pleasure to welcome new apprentices, along with our MP Robert Halfon, to Harlow College today in advance of National Apprenticeship Week. Robert has always been a great supporter of apprenticeships and it was fascinating to hear young people talk about how the information they receive through their schools could be improved to raise the profile of technical education and apprenticeships. Harlow College has the great dual benefit of offering both technical and academic pathways which allow students to have a broader range of career options beyond their courses."
National Apprenticeship Week website