The Sky's the Limit for College Apprentices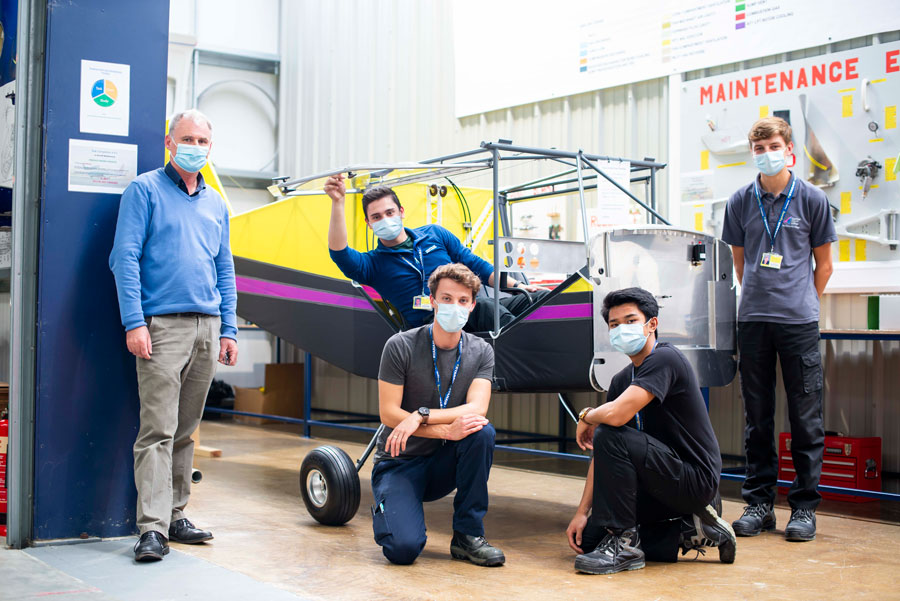 Photo L-R: (standing) Andrew Daines, Ryanair Technical Training Manager Stansted, (waving) name: Rares Turcu, (kneeling) name: Jack Hawkins, (kneeling) name: Eleiumark De Jesus, (standing) name: Joseph De Saint Esteban
A group of Engineering apprentices from Stansted Airport College are furthering their skills by working on the 'Build a Plane' project with their employer, Ryanair.
The project involves building from scratch the Rans S6 light aircraft kit plane, initially working on the fuselage so that the plane can be shown at various aircraft exhibitions, but with the ultimate aim of raising sponsorship to complete the build by purchasing the engine and propellers. All of the group hold a pilot's licence and many have several hours flying time under their belts so getting the aircraft airborne is what's driving them on.
Working at Ryanair's hangar under the guidance of Andrew Daines, Technical Training Manager Stansted, the trainees have been improving their knowledge of basic aircraft principals and more importantly learning engineering hand skills that, according to Andrew, are so badly lacking in schools, colleges and universities today.
Andrew commented: "This project has been a positive experience for both the trainees and their instructors. Building an aircraft to a certifiable standard is a challenge for experienced engineers, but for students at the start of their career it is even more challenging. They have learned valuable lessons in the standards and quality of the work; working to the manual; control and management of parts; fabrication and in some cases repair to the aircraft parts, as well as dealing with the dreaded paperwork process and certification, as this aircraft will fly.
"Despite all of these challenges the apprentices have been able to successfully build the fuselage and tail section, learning invaluable skills and lessons that will help to provide them with a good basic practical foundation for their future engineering careers with Ryanair."
Jack Hawkins, 22 from Audley End, is an Aircraft maintenance apprentice with Ryanair who is also studying at Stansted Airport College. "The skills I'm learning on this project are very much transferrable into the area of engineering that I'm looking to go into next which is why this project is such a valuable learning experience. In this modern digital age there's less emphasis on learning traditional hand skiils - it's easier to read a digital manual than to actually change a part these days - so being taught these hand skills is incredibly important."
Jenny Hogan, Head of Engineering at Stansted Airport College, said: "I'm very proud of this group of aeronautical engineering trainees who've been working on the 'Build a Plane' project. This is a fantastic opportunity for them to be hands on, to be involved and to be learning some of the basic hand skills that they're going to need throughout their careers as aeronautical engineers. It's no secret that the aviation industry has been hit hard by the coronavirus pandemic but this certainly is a positive story and we have every hope and aspiration that the aircraft industry is going to pick up and these guys are hopefully going to be leading the way in that."
If you would like to sponsor the apprentices to help them purchase the engine and propeller so they can ultimately fly the plane, then please contact Wendy Martin, Head of Stansted Airport College, at This email address is being protected from spambots. You need JavaScript enabled to view it.