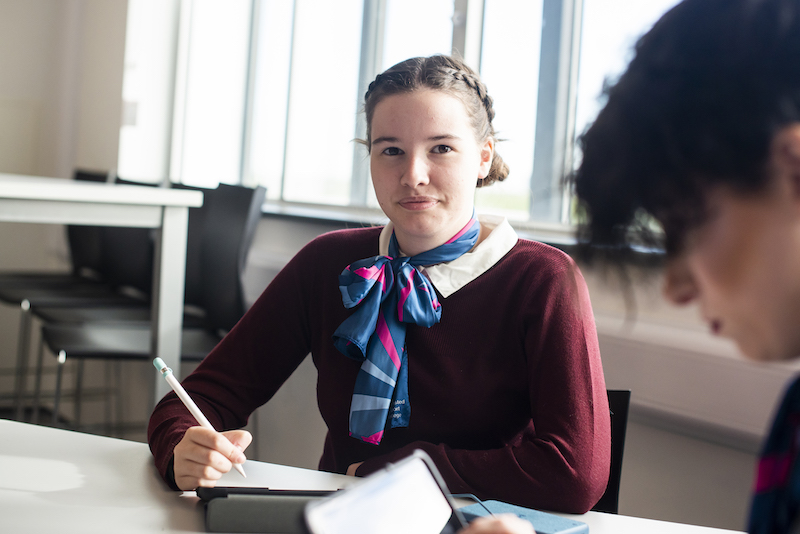 Molly Clark
"People think because we're girls we're going to be quite easy to push around, but we've found that we can use the personality traits that we have to approach things differently."
Molly Clark Q&A

What do you like most about the course?

We're working closely with industry, so being within touching distance of the airport means we can go out and chat with people and we've always got people coming in to see us.

Do you get the opportunity to visit companies and make contacts for work experience?

We're doing two weeks' work experience in the Easter period. We're going to see Ryanair and Titan Airways.

What's a typical day like on the course?

We're doing a lot of theory at the moment; legislation, mathematics, how electronics work, plus we're working on things like Health & Safety and PPE.

Being a female in a male dominated industry, how does that make you feel?

It's never held me back. The thought of it being a male dominated industry has never really phased me.

What is it about the industry that you're drawn to?

I think the innovation and the fact that aeronautical engineering is at the pinnacle of engineering – we're pushing people into the sky and they're flying everywhere now. I live quite close to the airport; I used to sit airside and watch the planes because my mum worked here. I now have the opportunity to make the leap into whatever comes next!

What would you say to other females who wanted to get into Engineering but weren't sure – what advice would you give?

With an industry like this you need to just come in and get stuck in. Block out the people that say you can't do something! I've blocked them out and "I can do it." I can prove to them that I can do this! Come and have a go and if you enjoy it just do it! It's not because you're a woman and you're starting 10 feet back in a race against the men. You have to show you are in the same race!

What are your plans for the future?

I'd like to do a Degree Apprenticeship around the designing and testing of aircraft. That would involve going out, looking at shiny new aircraft, seeing how they work, testing them and designing new and improved versions.

We do a lot of theory – the principles of flight, mathematics, how technology has changed. I need more theory to go into what I want to do. I also need some practical skills but the course is pretty balanced.