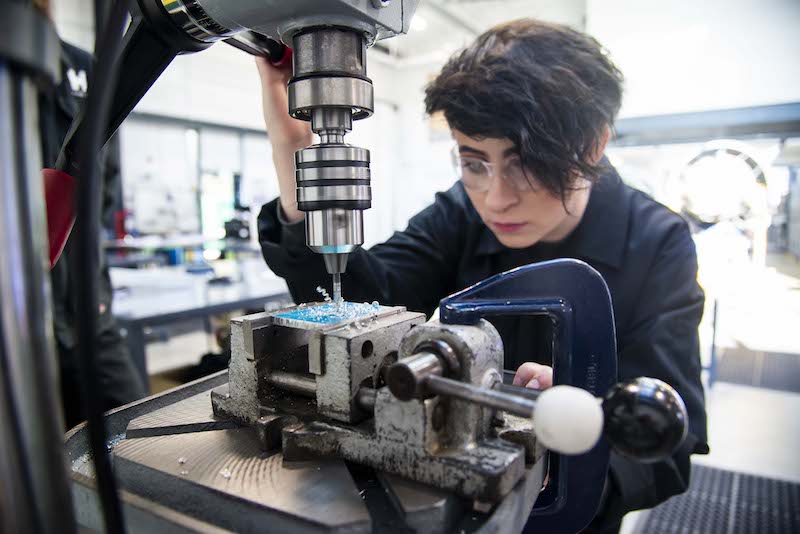 Amber White
"With an industry like this you need to come in and just get stuck in. Block out the people that say you can't do something! I've blocked them out and I can do it!"
Amber White Q&A
What do you like most about the course?
The equipment we've been lent by the airlines is amazing! Jet engines and an actual working jet plane! We're using the equipment we would use in industry and talking with people who we might be employed by.
Do you get the opportunity to visit companies and make contacts for work experience?
All our teachers have worked in the industry, so that's good! At Ryanair, for our work experience we're hoping to get involved with the maintenance and the organisation side of things, like ordering parts, making sure they're the right parts and speaking to the different teams.
What's a typical day like on the course?
We're doing a project at the moment about the history of aviation. We're building small versions of the planes out of carbon fibre and 3D printing.
Being a female in a male dominated industry, how does that make you feel?
It's a bit worrying to start with but you get used to the idea that a lot of people are stuck in their ways and we have to change that. We have changed a lot of people's opinions so far in the small amount of time we've been here!
People think that because we're girls we're going to be quite easy to push around but we've found that we can use the personality traits that we have to approach things differently. You don't have to be a tomboy to do this.
What is it about the industry that you're drawn to?
I have connections in the industry through family members so I've seen what it's like working in the industry. I know what it's all about and that has inspired me to want to be part of it. I've always liked the idea of fixing things, putting things together and taking them apart again and seeing how they work.
Having the equipment here like the jet aircaft and the engines means we can take things apart and see what could go wrong and why it could go wrong, analyse it and fix it.A lot of colleges don't have that!
What would you say to other females who wanted to get into Engineering but weren't sure – what advice would you give?
We both came here thinking we were going to be the only girl in the class. But, there's two of us in one class and we connect a lot with the guys too. Not because we're a different gender but because we have the same likes and dislikes! It proved to us that if we're going to go into this industry there is not going to be one gender in a group and you're going to have to work with other people. A common interest has brought us together and we can work well together.
In College, it's not about boy, girl, boy, girl seating plans. You can sit where you want and bond with everyone.
What are your plans for the future?
I'd like to do a university degree to further my design ideas. I prefer the design side to the hands-on side. I've always liked drawing and sketch work. You can really go anywhere with design. I will look at all my options and decide what's best for me!