It's lift off with Boeing for College student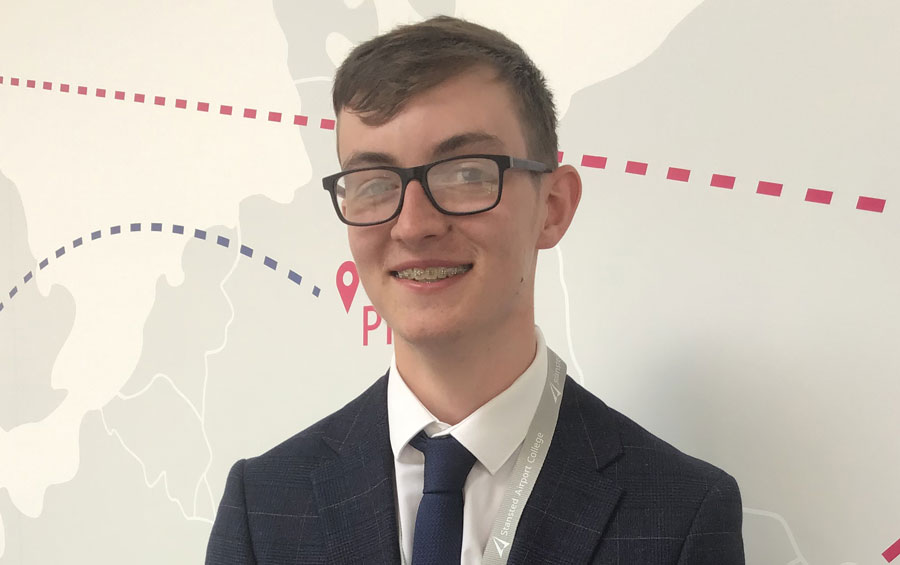 A student from Stansted Airport College has gained an apprenticeship with the world's largest aerospace company Boeing, one of only 20 people in the UK to land this prestigious training opportunity.
Richie Ketley 18, from Colchester, was studying a Level 3 Aeronautical Engineering course at the specialist airport college when he decided to apply to Boeing, not realising that, of the 1,000 or so applications they receive each year, only 20 on average are successful.
Buoyed by his experience at the College, and encouraged by his tutors, he sent off his CV and was invited to attend an engagement day in Boeing's Bristol training centre, where he took part in a hands-on skills test and a group presentation.
After a nail biting wait he was invited to the next stage and, after an informal interview, was offered a place on Boeing's Aircraft Maintenance apprenticeship, with a ringing endorsement of his interview skills.
"They told me they saw something in me about the way I engage with people that they didn't see in anyone else, and encouraged me never to lose that skill even if I wasn't successful."
The three year apprenticeship starts in September 2022 and will take place at the International Centre for Aviation Training (ICAT) in Cardiff and will include on the job training at one of Boeing's specialist centres, which include MoD Boscombe Down, RAF Brize Norton, RAF Lossiemouth and London Gatwick.
"They told us on the engagement day that they have 100% completion rate for the apprenticeship and they always keep people on afterwards, so that's a fantastic incentive knowing there's a guaranteed job at the end of the three years."
Victoria Claydensmith, Head of Centre at Stansted Airport College, said of Richie's success, "It's fabulous to see another of our engineering students from Stansted Airport College achieve success by becoming an apprentice at Boeing. What an achievement – well done Richie, and lucky Boeing for employing such a passionate, diligent and capable trainee!"
With the aviation industry gearing up for its busiest period since before the pandemic, skilled workers will be just as crucial to the recovery as frontline cabin crew, and Richard and his fellow apprentices are well placed to be right at the forefront as new opportunities arise.
"I've always wanted to be around aeroplanes, to work on them and maybe even fly them one day. I'm so grateful to Stansted Airport College for giving me this opportunity and I would definitely recommend the Engineering course. You will learn so many transferable skills that you can take anywhere. It opens up so many opportunities so just go for it."