Harlow College Named Apple Distinguished School for Second Time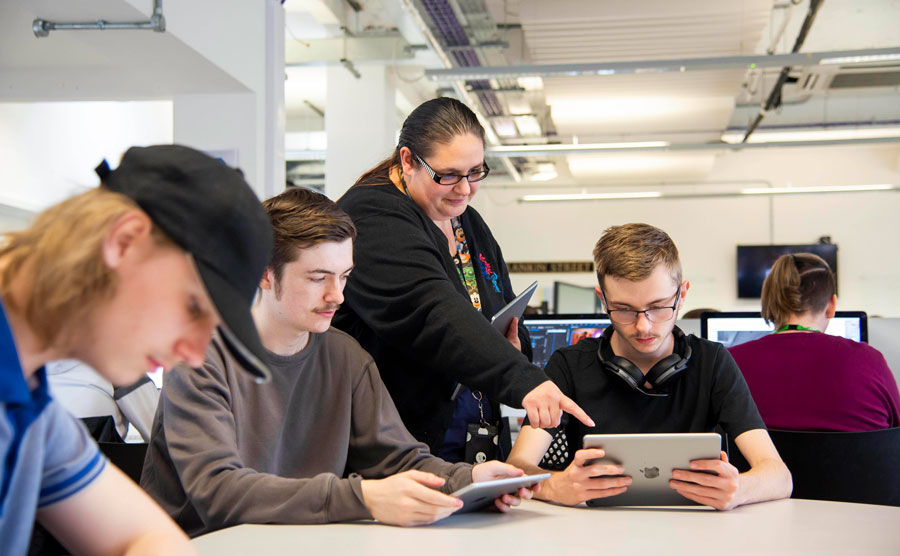 Harlow College is delighted to announce that it has been recognised as an Apple Distinguished School for 2019–2021 for the second time, after first being named as an ADS in November 2017.
This latest recognition celebrates the College's ongoing approach to transforming learning, teaching and assessment: by creating personalised curricula; instilling and developing digital confidence in line with industry needs and investing in a five year plan to upskill all staff to be digitally competent.
Apple Distinguished Schools are centres of innovation, leadership, and educational excellence that use Apple products to inspire creativity, collaboration, and critical thinking. They showcase innovative uses of technology in learning, teaching, and the education environment and have documented results of academic accomplishment.
Karen Spencer, Principal of Harlow College, said: "As a College we truly believe in our strapline 'Not just Courses. Careers'. Digital skills are critical for the future world - our approach is changing the way we teach and learn. Our students are able to showcase their work and demonstrate their progress - using digital skills to develop their portfolios, apply for jobs and universities, as well as become more independent learners."
Kelly Edwards, Director of Quality explained: "Using iPad devices in the classroom has had a massive impact on the way in which students learn and are assessed. The use of the iPad has positively transformed the culture of teaching for staff who have developed their toolkit to include a range of key apps and digital learning tools which has made a huge difference in the way students are taught."
Apple Classroom has also been fully introduced at our new Stansted Airport College (STAC), which is part of Harlow College. This has enabled our teachers to support and guide students through their lessons allowing teachers to launch specific apps and learning tools to students within the classroom, thereby improving learner engagement and focus.
Staff at STAC were shown Apple Classroom on arrival at the new College and during their induction. Since then they have experimented how to utilise it within the classroom and have been shown how students engagement can be measured following a session.
The continued selection of Harlow College as an Apple Distinguished School highlights our success as an innovative and compelling learning environment that engages students and provides tangible evidence of academic accomplishment.
All full-time 16-18 year old students at the College have an iPad, which they are encouraged to use in any of the new learning zones across the campus, designed to provide a real insight into a professional working environment.
Media is one such space, where Apple TV is used to enhance the learning experience. The iHub is another area where students can use the VR programmes or work collaboratively using their iPad devices or the interactive touch tables.
Harlow College has been graded Good again by Ofsted in January 2019 and we have won awards for our innovative approach to learning, teaching and assessment. Our students get great results, for example in 2019, 72% ofA Level grades achieved were A*-C. 60% of our BTEC Extended Diploma students achieved DDD (triple distinction).
Our excellent employer links and work placements give our students first-hand experience of the world of work.
Our teaching staff have industry expertise and this is matched by industry standard facilities, including specialist workshops, classrooms with the latest technology, as well as great social spaces to relax.